Exhibit Area
The Sessions Woods Exhibit Area is the ideal place to learn about Connecticut's wildlife! The room features animal mounts, interpretive panels, and hands-on materials. Some of the unique displays include "The Return of the Wild Turkey" and "The Black Bear in Connecticut." A computer monitor shows all the waterfowl species seen in Connecticut and describes some of their habits.
Some of the mounts in the exhibit area include black bear, white-tailed deer, bobcat, fox, and coyote. Hallway display cases feature owls, raptors, waterfowl, songbirds and insects. Additional items in the cases include a diversity of animal tracks and skulls. The hallway also includes art and photography from local Connecticut artists.
In addition to the exhibit room and hallway, there is a small classroom that can be used by visitors to explore bins of hands-on materials for an up-close look at various wildlife-related items. The exhibit area is open Monday-Friday, from 8:30 a.m. to 4:00 p.m. and on select weekends when programs are conducted by staff biologists.
Children's Wildlife Booklet Available!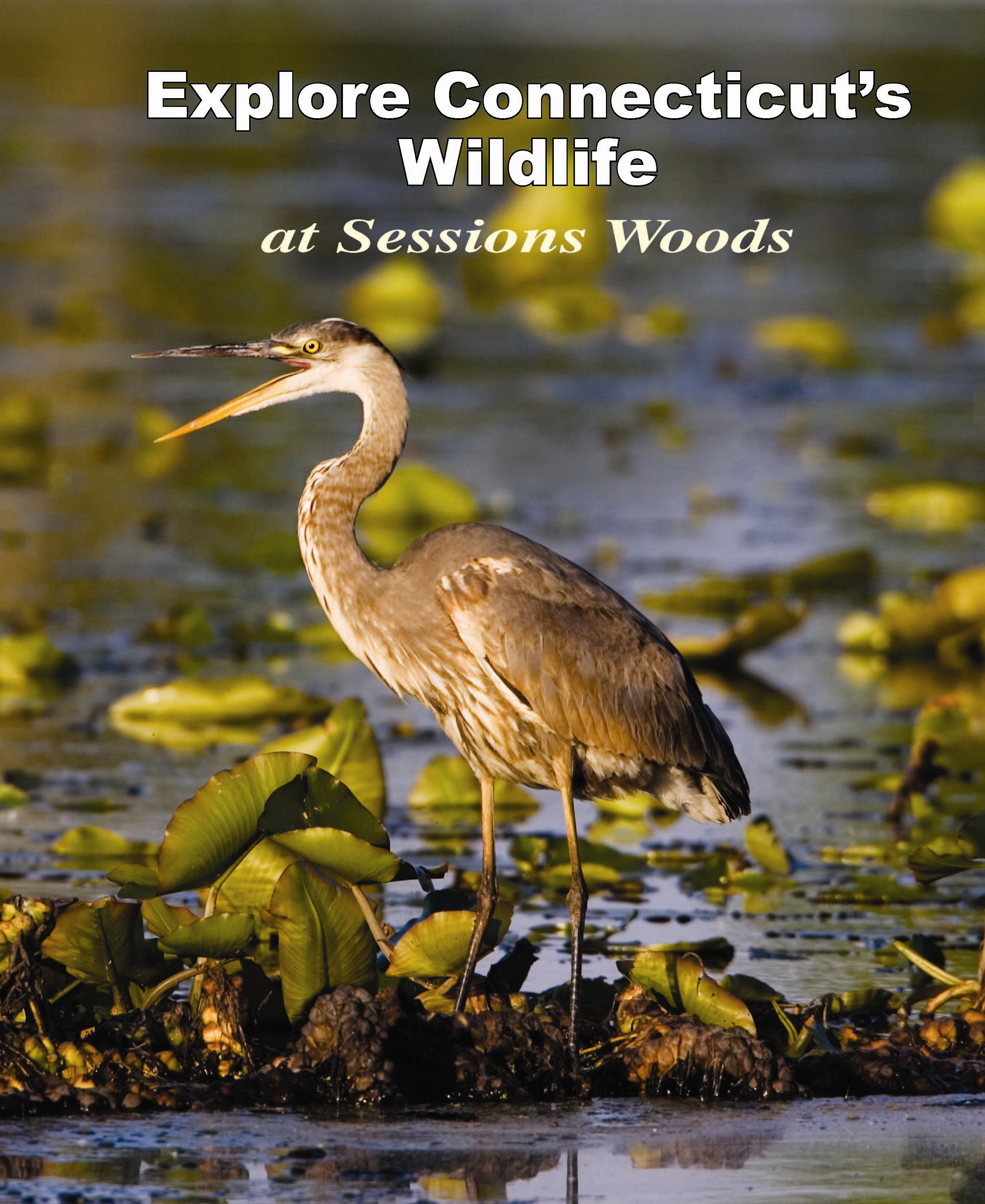 Are you an educator or do you know someone who is? The Wildlife Division has compiled a selection of "Just for Kids" pages from Connecticut Wildlife magazine and produced a booklet called "Explore Connecticut's Wildlife at Sessions Woods." Printing of the booklet was made possible by the Friends of Sessions Woods (FOSW) through a grant from the late Paul Newman and the Newman's Own Foundation.
"Explore Connecticut's Wildlife at Sessions Woods" features "Just for Kids" pages on topics such as forests, fields, beaver marshes, vernal pools, wildlife, and bird watching. There are coloring pages on the wood duck, black bear, blue-winged warbler, wild turkey, and ruby-throated hummingbird. A few activity pages are included, for example, "Habitat Hunt," which is similar to a scavenger hunt but can be completed at any natural area. A special feature of the booklet is a four-page color insert with beautiful wildlife photos taken by wildlife photographer Paul Fusco.
If you would like a booklet, stop by Sessions Woods to receive your free copy. School and Scout groups also can request booklets at no cost. The booklet is most suitable for grades 3-8 but select pages can be used by any age.